Should You Help Your Adult Children Financially?
The Coming Wealth Transfer Tsunami
For all its apparent gloominess, the generational wealth gap could be temporary. The Federal Reserve calculates that the Baby Boomer generation currently holds around $78 trillion in assets, a sizable portion of which is liable to be inherited by their families. Experts predict the bulk of this transfer will occur between now and 2043.
However, this figure is misleading for a couple of reasons.
First, wealth inequality within the Boomer group will channel 42% or about $36 trillion of this wealth to the families in the top 1%. On the flip side of the inequality equation, a 2019 Insured Retirement Institute study found that around 45% of Boomers had $0 in retirement savings. Sadly, half of these had retirement savings in the past.
Second, while the remaining $42 trillion still stands as an impressive figure, Boomers' children shouldn't expect a big lump sum anytime soon. The majority of the Boomers will be around for some time to come, and they will be spending their money. For example, a 2021 survey found that 75% are more interested in spending their retirement savings on enjoyable pursuits than leaving money to their beneficiaries.
Beyond these discretionary expenditures, the amount Boomers will spend on retirement necessities has increased, with healthcare and long-term care being the primary drivers.
The Fidelity 2023 Retiree Health Care Cost Estimate projects that an average couple will spend $315,000 on healthcare costs during retirement. This represents a 96% increase since 2002.
As for long-term care costs, Genworth estimated in 2020 current annual long-term care costs in these categories:
| | |
| --- | --- |
| Adult Day Health Care | $ 19,240 |
| In-Home Health Aide | $ 54,912 |
| Assisted Living | $ 51,600 |
| Skilled Nursing Facility - Semi-Private Room | $ 93,075 |
| Skilled Nursing Facility - Private Room | $105,850 |
Genworth noted that annual costs rose 1.9% to 3.8% between 2004 and 2020, depending on the care category. If increases continue annually at a 2.5% rate, these costs will more than double by 2050.
Nevertheless, many Boomer parents are not waiting until they die to transfer some of their wealth to adult children.
Better Today Than Tomorrow
As a result of the generational wealth gap, many Boomer parents have chosen to help their adult children financially today rather than making the kids wait for an inheritance.
A study by Savings.com showed this is a pervasive trend:
45% of parents provide some form of financial support to at least one of their adult children. This excludes 6% of parents supporting an adult child with a disability.

The average monthly support amount was $1,400, primarily for housing, groceries, and cell phone costs.
About 1 out of 5 (21%) parents providing support helped with student loan payments to an average of $245 monthly.
As for healthcare insurance, the 2010 Affordable Care Act allows parents to keep dependents on their plans until age 26. Looking at parents of millennials, Fortune magazine reports that 17% continue to cover adult children.
Another study by the Pew Research Center found a growing trend of young adults (ages 18-29) living with their parents. In 1960 census figures showed that 29% of young adults lived with one or more parents. By 2010 this rose to 44%, and by 2020 the pandemic spiked the figure to 52%, the highest rate since the closing years of the Great Depression (48%). Chief among the driving forces for this phenomenon were high housing costs and student loan payments.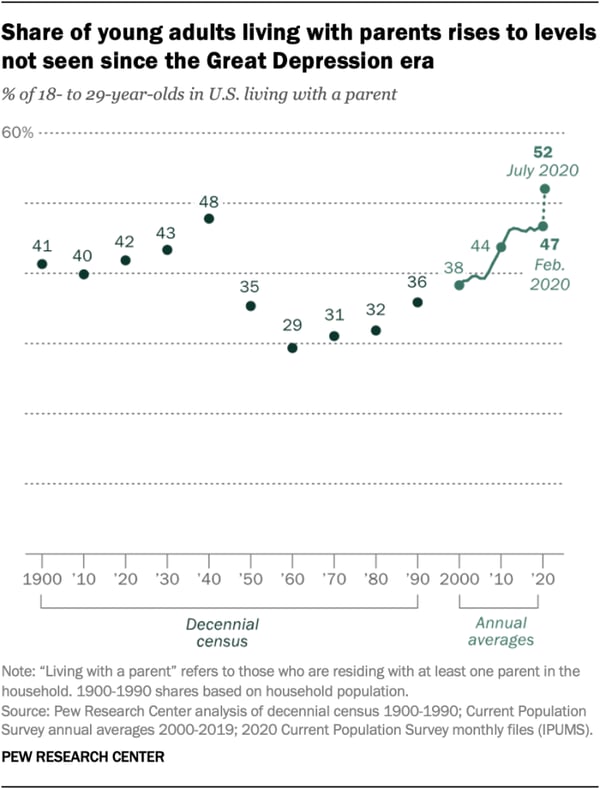 Some pundits see this as a logical response to the financial pressures faced by post-Boomer generations, allowing them a safe haven to pay off student loans and save for future home ownership.
The Perils of Helping
While parents may feel at peace with throwing financial lifelines to their adult children, they should also bear a couple of caveats in mind.
First, will helping your adult children jeopardize your own financial standing? As noted above, a significant proportion of Boomer parents have no retirement savings, and others have a minimal amount. If helping your kids significantly worsens your own money situation, you risk the prospect of a diminished lifestyle at a time when you can least afford it, especially from a healthcare perspective.
Second, will helping your adult children prevent them from learning how to be independent? There are ways to help that could perpetuate a cycle of dependence. Conversely, moving through the assistance process with a focus on building skills and experience for eventual independence makes better sense.
This is Part 1 in our series about helping children financially! Subscribe to our blog to receive notifications about the rest of the series!