Do You Need Long-Term Care Insurance?
Here's an alarming fact. Between 50-70% of Americans 65 or older will eventually require some form of long-term care, according to 2020 figures published by the U.S. Department of Health and Human Services (HHS). What makes it particularly alarming is that fewer than half have done enough planning to cover the costs of long-term care. In a survey by The Associated Press-NORC Center for Public Affairs Research, 54% of respondents aged 40 and older said they had done little or no planning for these needs.
Distribution and duration of long-term care services
| | | |
| --- | --- | --- |
| Care Type | Average Years Used | Percent Using |
| Any Services | 3 | 69% |
| Unpaid home care only | 1 | 59% |
| Paid home care | <1 | 42% |
| Any care at home | 2 | 65% |
| Skilled nursing facilities | 1 | 35% |
| Assisted Living | <1 | 13% |
| Any care in facilities | 1 | 37% |
To compound the problem, the costs for this highly probable occurrence can be high. In 2020, Genworth estimated current annual long-term care costs in these categories:
| | |
| --- | --- |
| Adult Day Health Care | $19,240 |
| In-Home Health Aide | $54,912 |
| Assisted Living | $51,600 |
| Skilled Nursing Facility - Semi-Private Room | $93,075 |
| Skilled Nursing Facility - Private Room | $105,850 |
These are today's costs. Genworth noted that annual costs rose between 1.9% to 3.8% between 2004 and 2020, depending on the care category. If increases continue annually at a 2.5% rate, these costs will more than double by 2050.

Given the level of risk and amount of these costs, it makes sense to have a financial plan for long-term care.
Where the Money Comes From
The options covering long-term care costs are:
Out-of-pocket
Government payments
Long-term care insurance
These options may be used in combination. For example, using both private insurance and personal resources to cover costs.
Personal Resources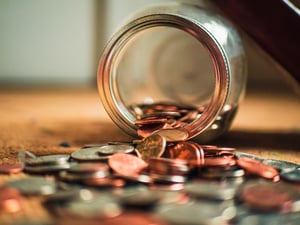 According to a detailed 2016 HHS report, the majority (53%) of long-term care expenses are paid for from personal resources. Among these can be:
Pensions including Social Security
401(k)s and traditional IRAs
Regular savings and Roth IRAs
Annuities and life insurance
Health savings accounts
Proceeds from home sales
Reverse mortgages
If personal resources are used, there is a risk of running out of funds since some of these sources are finite pools of money. Seniors with limited resources especially face the prospect of exhausting their finances. This could lead to situations where they are only able to afford lower-quality long-term care options.
Government Payments
The HHS report broke down public funding percentages of total spending this way:
Medicaid: 34%
Medicare: 10%
Other public sources: 1%
There is a common misconception that Medicare covers long-term care costs. Medicare does cover the costs of a skilled nursing facility care for up to 100 days after a hospitalization. However, there are some strict rules for this. Among these are the patient must have been hospitalized for three days or more and must enter the skilled nursing facility within 30 days of being discharged from the hospital. Medicare coverage does not extend to costs of care for older adults who only need help with everyday activities.

Medicaid programs, which are managed by each state, provide most of the public funds for long-term care. The "catch" is that recipients must have very low financial resources to qualify. For example, in Florida, a single person can earn no more than $2,349 per month and have no more than $2,000 in assets. The level of Medicaid funding may also limit a person to more basic long-term care accommodations. The payments simply would not be enough for more upscale settings.
Long-Term Care Insurance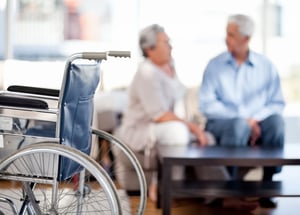 Long-term care insurance pays for about 3% of total long-term care costs in the U.S. The products in this category are dedicated long-term care insurance along with life insurance and annuity contracts containing long-term care riders. There are also opportunities to take advantage of the cash value in some types of life insurance policies or receive money early from expected future death benefits. These fall under the personal resources category and are covered in the Cantissimo Senior Living blog - Life Insurance and Annuities: Alternatives to Pay for Long-Term Care.
Dedicated long-term care insurance (LTCI) may cover the following types of care:
Home healthcare
Skilled nursing home facility
Adult daycare center
LTCI would seem to be a very popular option as a risk reduction tool. Yet, according to the American Association for Long-term Care Insurance (AALTCI), only about 7.5 million Americans (around 8% of U.S residents 55 or older) have some form of LTCI. The reasons for this are:
High premiums
Misconceptions that Medicare will pay the majority of costs
Reluctance to acknowledge the nearly 50% risk that they will need long-term care
What to Do Next
Regardless of how long-term care costs are covered, planning for these expenses is essential. As financial writer and Morningstar director of personal finance, Christine Benz wrote in a September 2021 article:
"The fact that about half of us will need some type of long-term care in our lifetimes and half won't suggests that we all ought to factor long-term-care planning into our retirement planning. After all, if I told you that there was a roughly 50/50 chance that your house would burn to the ground during the time that you owned it, is there a possibility you would do nothing about it?"
Given the importance of this need, what is the next best step?

For the financially savvy, educating oneself about long-term care planning makes sense in preparation for a do-it-yourself approach. For the rest of us, learning about long-term care planning would also be beneficial as background information. However, the best next step would be to find a certified financial planner experienced in long-term care to craft a realistic plan. Such a professional will help clarify your unique goals and tailor a plan to meet those objectives.
Visit our Long-term Care Resources page for more helpful content about planning for care!